The Ventura Countywide Stormwater Quality Management Program addresses the management and discharge of pollutants to the storm drain conveyance system (street gutters, storm drains, drainage ditches, etc.) and Receiving Waters (ocean, creeks, rivers, estuaries, etc.)
Businesses are responsible for keeping their storm drains and other discharge points (drainage channels, sheet flow areas, etc) clean throughout the entire facility (indoors and outdoors), including perimeter areas where surface runoff exits the property. Implementing Best Management Practices (BMPs) will reduce pollutants in stormwater runoff. BMPs are defined as general good housekeeping practices, schedules of activities, pollution prevention techniques, educational practices, maintenance procedures, prohibitions of practices and other management practices. BMPs also include treatment practices, operating procedures, and practices to control site runoff, spillage or leaks, sludge or water disposal, or drainage from raw materials storage.
Detailed facts sheets have been made available below in an effort to provide clear guidance. The BMPs described on these fact sheets are generally inexpensive to implement and may save money and resources. A selection of fact sheets are available below. More publications are available at www.cleanwatershed.org.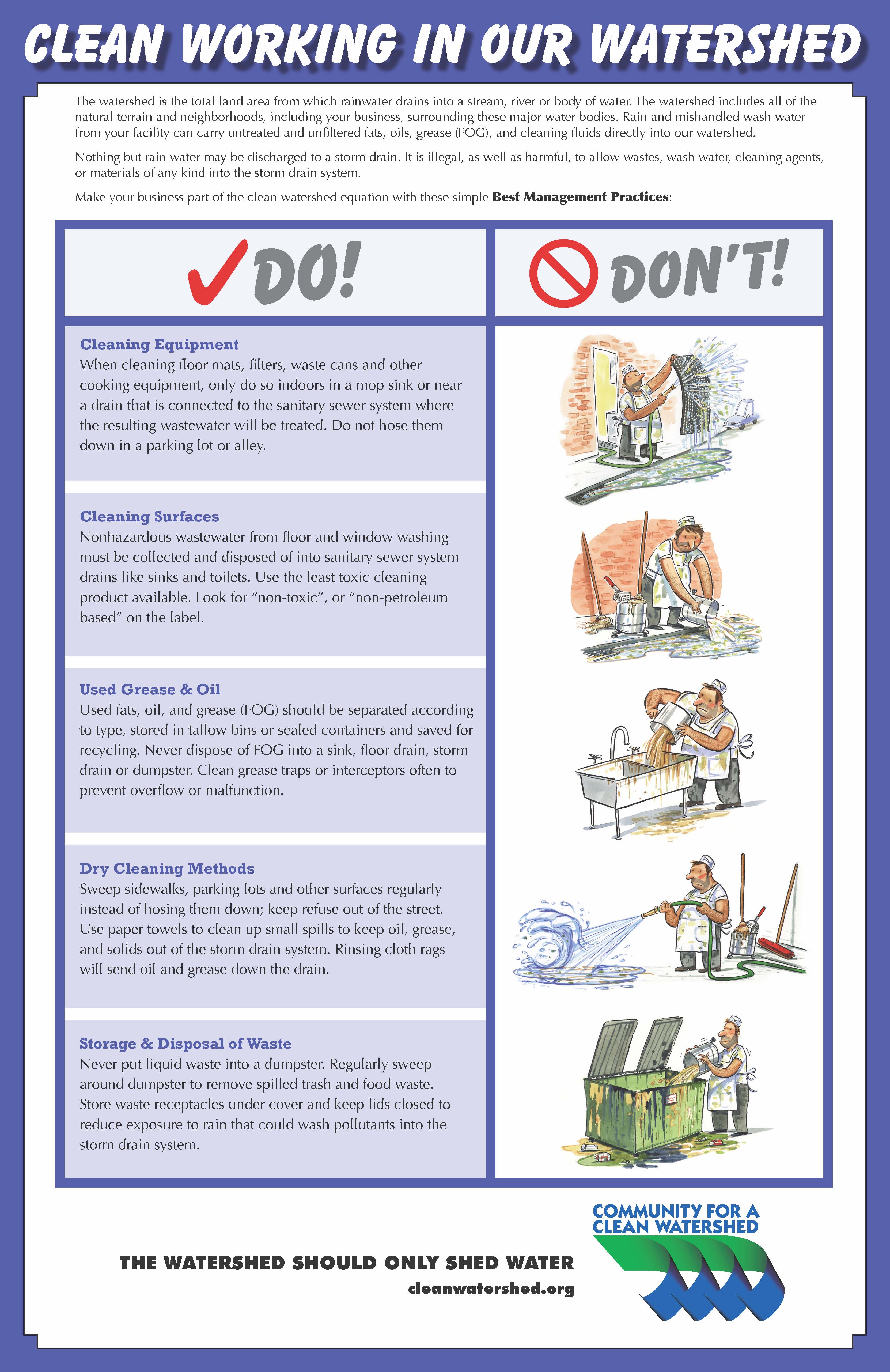 Program Publications and Fact Sheets
►Clean Working in Our Watershed
►Clean Working in Our Watershed (Spanish version)
►Automotive Poster
►Restaurant Poster
►Carpet Cleaning Fact Sheet
►Waste Recycling and Disposal Guide (and RV dumping sites)
►Surface Cleaning and Materials Handling Guide
►Vehicle Washing Guide
►Vehicle & Equipment Fueling, Washing, and Cleaning Guide
►Building & Grounds Maintenance, Repair, Remodeling, and Construction Guide
►Waste Management & Disposal
State Publications
►General Industrial Permit
Resources
►Stormwater Pollution Prevention Plan (SWPPP) information including QSP/QSD information (CASQA website)
►California Stormwater Quality Association (CASQA)
►Storm Water Multiple Application and Report Tracking System (SMARTS)