Ventura Countywide Municipal Separate Storm Sewer System (MS4) Permit
The current Ventura Countywide Stormwater Permit Order No. R4-2010-0108 was adopted in 2010 for a five year term. The Permit expired on July 8, 2015, but is on administrative extension until a new Permit is adopted. The first step for all Stormwater Permit renewals is the submission of a Report of Waste Discharge (ROWD). The ROWD summarizes the accomplishments and challenges of the Permittees under the current permit. The ROWD was submitted to the Los Angeles Regional Water Quality Control Board (Regional Board) in January 2015 and is available here.
Documents regarding the Ventura Countywide Stormwater Permit are available at the Regional Board website here: Ventura Countywide Municipal Stormwater Permit.
Current Ventura Countywide MS4 Stormwater Permit (2010 - present)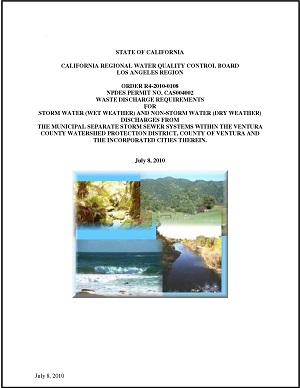 ► Countywide NPDES Municipal Stormwater Permit (R4-2010-0108)
► Attachment A (Watershed Management Areas)
► Attachment B (Pollutants of Concern)
► Attachment C (Treatment BMP Performance Standards and Effluent Concentrations as Median Values)
► Attachment D (Critical Sources Categories)
► Attachment E (Determination of Erosion Potential)
► Attachment F (Monitoring Program)
► Attachment G (Constituents with Associated Minimum Levels)
► Attachment H (Major Outfall Stations)
► Attachment I (Reporting Program Requirements)
Previous Ventura Countywide MS4 Stormwater Permits
► Countywide NPDES Municipal Stormwater Permit (R4-09-0057, 2009)
► Countywide NPDES Municipal Stormwater Permit (R4-00-108, 2000-2009)